Where Our Lawyers Are Licensed to Practice Law
We Can Represent PACA Clients and Other Clients in Federal Courts and 48 of the 53 US States and Territories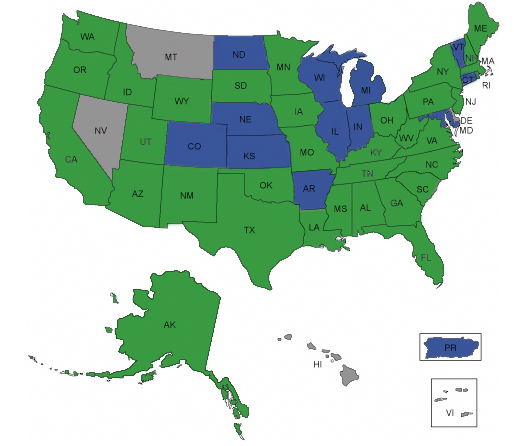 Map Legend:
One or more of our lawyers are licensed to practice law

before the United States District Court and all State Courts

in these states.

One or more of our lawyers are licensed to practice before the United States District Courts in these states.

Our lawyers are not licensed in either the federal or state courts in these states and must affiliate with local counsel if your claims need to be filed in one of these jurisdictions.
In many cases, PACA clients and other clients require legal representation in multiple states for a single matter.  This representation can be extremely costly if handled by different law firms, as there can sometimes be a a fair amount of time for each new firm to "get up to speed" learning about the client's matter.  As a result, the client must pay for this learning by a number of different law firms for the same matter.
While most US lawyers are only licensed in one or a few states and must affiliate with lawyers in other states to assist their clients, our firm's lawyers are far less limited in their ability to help our clients within our practice areas.  We limit our areas of practice to those on this site, but we offer our services to our clients in many jurisdictions.  As shown in the map below, we can represent clients in many jurisdictions without having to associate with a number of different firms.  Clients benefit in two ways:  (i) there are not the associated fees required to bring each new firm "up-to-speed" in multi-jurisdictional matters, and (ii) they can have one firm who will be the point of contact for their litigation.
One or more of the firm's lawyers is licensed in the courts of 34 states and in addition they are also licensed in United States District Courts in 12 additional states plus Puerto Rico and the District of Columbia. The states were our lawyers are licensed as members of the state bar include: Alabama, Alaska, Arizona, California, Florida, Georgia, Idaho, Iowa, Kentucky, Louisiana, Maine, Massachusetts, Minnesota, Mississippi, Missouri, New Hampshire, New Jersey, New Mexico, New York, North Carolina, Ohio, Oklahoma, Oregon, Pennsylvania, Rhode Island, South Carolina, South Dakota, Tennessee, Texas, Utah, Virginia, Washington and West Virginia. In addition, one or more of our lawyers are admitted to practice in the United States District Courts in these additional states or territories: Arkansas, Colorado, Connecticut, District of Columbia, Illinois, Indiana, Kansas, Maryland, Michigan, Nebraska, North Dakota, Puerto Rico, Wisconsin, and Vermont.  We can directly act as your lawyers before the federal courts in 48 of the 53 United States jurisdictions (46 states, DC and Puerto Rico).